Divorce Attorney OKC: Helping You Navigate Your New Beginning.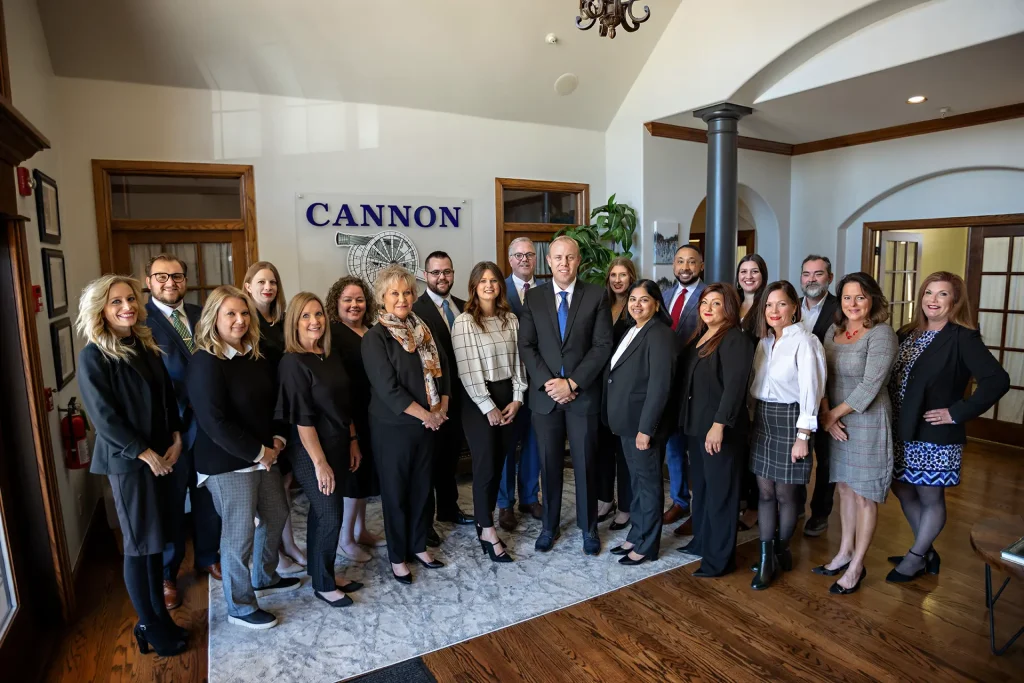 When two people marry they plan to stay together for the rest of their lives, however, sometimes life happens and sometimes marriages do not adapt or people refuse to change and divorce is the answer. Our team of Your Fierce Advocates® at Cannon & Associates are dedicated Oklahoma City divorce lawyers who are here to first and foremost answer your questions and address your concerns about the divorce process and what your future holds beyond divorce in Oklahoma. 
Our owner and founder, John Cannon is an Army combat veteran and the child of divorce of himself. Many members of our team have seen first-hand the right and the wrong way to go about getting divorced and we want to help as many families as possible complete divorce as peacefully as possible and without involving the children. Our entire team of OKC divorce attorneys, paralegals, and support staff know what you are facing and have walked alongside clients in your shoes. We will do everything in our power to make the process as stress-free as possible for you. Until we get the chance to meet, we encourage you to take advantage of the hundreds of free resources on our website and our YouTube channel. Additionally, our founder published Informed Divorce: Facing the Future with a Plan, which is a comprehensive guide to divorce in Oklahoma from the experience of our entire team. You may ORDER IT NOW ON AMAZON or request a FREE COPY from our office by calling 405-591-3935, which we will mail to you or you may pick up discretely.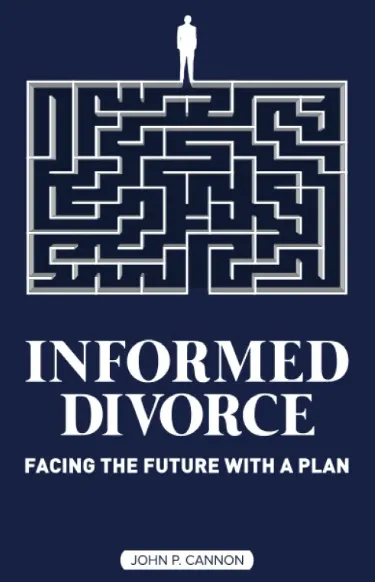 Informed Divorce: Facing the Future with a Plan
Our book, Informed Divorce: Facing the Future with a Plan, is your ultimate guide to the journey through divorce in Oklahoma. The fear of the unknown of divorce, child custody, retirement, and other obstacles that are on the road through divorce make this process difficult for many Oklahomans. However, we want you to know you are not alone. Our OKC divorce lawyers and our entire team want you to have a free copy of our book, which you may request in the office, or order on Amazon to address your most pressing questions about divorce in Oklahoma.
Knowledge is power and we hope you will take us up on our offer to meet with you and answer your questions in a risk-free confidential divorce planning session. However, until or if you are not ready, we encourage you to pick up a copy of Informed Divorce from our office. It is written with you in mind and we sincerely hope it makes the process of facing divorce in Oklahoma less frightening and that you are more prepared after reading it.
Informed Divorce available on Amazon If you are ready to have your questions answered and address your fears about divorce in Oklahoma, CALL NOW at (405) 591-3935. We're available 24 hours a day, and 7 days a week to schedule a Free Case Planning Session to understand your options and rights in your Oklahoma divorce
Visitation Schedules in Oklahoma
Our team of Oklahoma City divorce attorneys would be honored to meet with you and answer your questions about child custody and visitation in Oklahoma. However, it is important to know that most visitation schedules or custody arrangements in Oklahoma are standardized based on research and child psychology about the importance of regular contact and relationships with both parents following divorce. The following links are the standard visitation schedules for Oklahoma, Canadian, Cleveland, and Logan County. Our OKC divorce lawyers hope reviewing this information is helpful to you in preparing to face divorce in Oklahoma.
Oklahoma County Visitation Schedule
Canadian County Visitation Schedule
Cleveland County Visitation Schedule
Logan County Visitation Schedule
OKLAHOMA CITY DIVORCE ATTORNEYS
Divorce in Oklahoma is, in the majority of cases, a messy affair, especially without representation. Even when you seek the help of a skilled and reputable family law attorney, divorces can still feel like you are fighting your own personal war against your spouse.
This is understandable, as both parties want the best for themselves and for their children, and this means communication can break down fast, tempers can fray and amicable discussions become impossible.
This is where an Oklahoma divorce attorney earns their salt through the use of negotiation and mediation between the parties involved.
It is exceptionally rare that both parties are in agreement with their terms before the divorce proceedings. Most of the time there are arguments over how to allocate and divide the material estate, who gets child custody, and whether or not one spouse is entitled to spousal support or child support. This can lead to frustration and, ultimately, an impasse that prevents the proceedings from moving forward.
The law that governs Oklahoma divorce is also complicated, with simple and small mistakes ending up costing you time and money.
Thankfully, you don't have to navigate the complex Oklahoma City divorce legal system alone.
Contact us today at 405-591-3935 and arrange a free consultation.
How Do I Find The Right Oklahoma City Divorce Attorney?
The majority of clients who are looking for the right divorce attorney in Oklahoma City have never needed the help of a lawyer before. This can make it really difficult to narrow down choices, leading people to feel overwhelmed and unsure. Especially when you are looking for someone to help resolve complex issues involving your family. The first step is finding a divorce lawyer that you trust.
Every Oklahoma divorce law firm that you speak to will probably claim that they are the best around, which makes it extremely hard to choose.
To begin with, we recommend that you only use a law firm that offers a free consultation and case evaluation as our Oklahoma City divorce lawyers do here at Cannon & Associates.
Besides that, here is the kind of things we think you should look for:
Experience and Proven Track Record
The first thing to consider when you are looking at a potential Oklahoma divorce attorney should always be how good they are at their job. This means you should be looking for recommendations and past case wins.
Any divorce law firm in Oklahoma City, OK should be more than happy to show you their past wins and glowing recommendations from their clients, if they hesitate or refuse this, look elsewhere.
Accessibility
A good Oklahoma divorce lawyer is always going to have a full caseload on their hands. This means they are going to be extremely busy during their working hours. Unfortunately, this means sometimes they won't answer their phone or reply instantly.
A great divorce attorney in Oklahoma will still make sure that they respond in a timely manner. This doesn't mean you will have access whenever you want, but you should never feel like you are waiting around for days on end for responses to your queries.
Comfortable Relationship
Oklahoma divorce attorneys are humans, too and this means they have their own personalities and quirks.
As you are going to be spending a lot of time on the phone and in meetings with this individual, make sure that you are comfortable talking to them. They should be able to advise you, tell you when you are making a bad decision, and still be able to remain compassionate.
If you feel uncomfortable around them, listen to your gut and go elsewhere.
Questions to Ask a Potential Divorce Lawyer in Oklahoma City
In order to be as confident as possible in your decision, here are some great questions that you can ask your attorney:
Who is your typical client?
What is your legal specialization?
What is your level of experience?
Have you dealt with similar cases to mine in court?
How much will this cost, and how will I pay?
Have you dealt with cases similar to mine?
When can I expect communication?
Can you show me testimonials from your previous clients?

Why Should I Hire an Oklahoma Divorce Attorney?
It doesn't matter how you came to the decision, divorce is a serious matter and will always involve a lot of emotion. This emotion can easily become a bad thing, one that influences your decisions, making it more difficult for everyone involved when you need to make fair arrangements between you and your spouse.
When you seek representation, you are agreeing to aid from a party that can stand back and makes unbiased decisions from a place of clarity and experience. They know what is fair and reasonable and will be able to help you and your spouse come to an arrangement that you both find fair and reasonable.
Read more here about why we recommend being the first to file for divorce.
Paperwork
Your Oklahoma City divorce lawyers will also be able to take over the hard boring work that comes alongside divorce, in particular, the paperwork and negotiations between you and your spouse.
Any family law matter in Oklahoma City will have a lot of paperwork that needs to be filed correctly and on time in order for your divorce to proceed. It also looks good to the judge if your paperwork is always on time and in order.
Legal Assistance & Knowledge
Another task that your attorney will be responsible for is to explain to you your legal rights and options in a way that is easy to understand.
Working with an experienced divorce lawyer in Oklahoma City can make the process simpler and much more manageable.
Cannon & Associates Practice Areas
Here at Cannon & Associates, we cover a wide range of family law cases as well as Oklahoma divorces, such as:
Modification of Court Orders
When the court has issued an order in relation to custody agreements, alimony, child support, or spousal support, the orders aren't forever set in stone. Under the right circumstances and with a strong enough argument, the judge may make amendments.
One reason why the judge might change the order is if your children are in danger with a spouse who has custody or if a spouse has become injured or disabled and can no longer afford to pay spousal support.
That being said, it can be really difficult to get a modification of a custody order without an extremely good cause. Your best chance will be to formulate an argument with your attorney before presenting it to the judge.
Child Support Agreements
When you and your partner enter into a marriage, you become a partnership and this means that you take joint responsibility for any children you have and their needs. As a partnership, you will ensure that your child is fed, clothed, and educated, as well as loved.
This often takes the form of one spouse leaving their career in order to look after the children and one spouse continuing to work so that they can provide a steady income.
After a divorce, you are both still responsible for the child's needs, and this means that the spouse who gets custody, may need financial support from the other spouse.
In order to come to an arrangement that is fair and reasonable, you should speak to your Oklahoma divorce attorney. They will have experience in calculating a figure that is fair, and this will prevent you from having to let the judge decide.
If either you, your partner, or both you and your partner have a high net worth, you are going to need a skilled high-asset divorce lawyer in Oklahoma to help you divide and sort through your assets.
Property that has been gifted, long-term investments in stocks and bonds, and joint business ventures can take a lot of work to sort through, and your divorce lawyers may need to seek help from external experts.
When both spouses love and cherish their kids, and both parties want custody, the discussions can quickly become nasty. Divorcing couples often find it extremely difficult to come to an amicable agreement here alone.
This is where your child custody attorneys will prove indispensable. They will use their skills and experience in negotiation and mediation to help you both address the issue from a place of calm.
They will remind you that the most important thing here is your children, not your emotions. You need to put their well-being above anything else.
In Oklahoma divorce cases like this, your family law firm will prioritize your children.
Mothers' and Fathers' Rights
Both the mother and the father have certain rights in the state of Oklahoma. These rights ensure that neither the mother nor the father has any advantage due to their gender.
Both parents have equal rights in terms of their children, which means it will be other factors that the judge uses to decide who gets custody.
The only exception to this is if either parent has a history of or is currently using drugs or is known to be violent and abusive.
Enforcement
If the courts have issued an order in regard to child support, alimony, custody arrangements, or visitation, these orders have to be respected and followed by all of the parties involved.
One thing that the courts frown upon, in particular, is something called alienation. Alienation is when one parent does things that influence their children's opinions of the other parent. This may be through rewarding negative attitudes towards the other parent or restricting the time that they can see them.
If your ex is violating their orders by not paying child support or alimony, or they are stopping you from seeing your kids, the law is on your side in Oklahoma County.
The first port of call should be to speak to your law firm of choice and ask them to speak to your ex-spouse. If they continue to abuse their orders, your Oklahoma City divorce attorney will be able to seek help from the courts who may step in to help.
Sometimes, when the court sees that your ex is violating their orders, it can work in your favor. If they continue to ignore the orders, the court may change them to restrict your spouse even further
Domestic Violence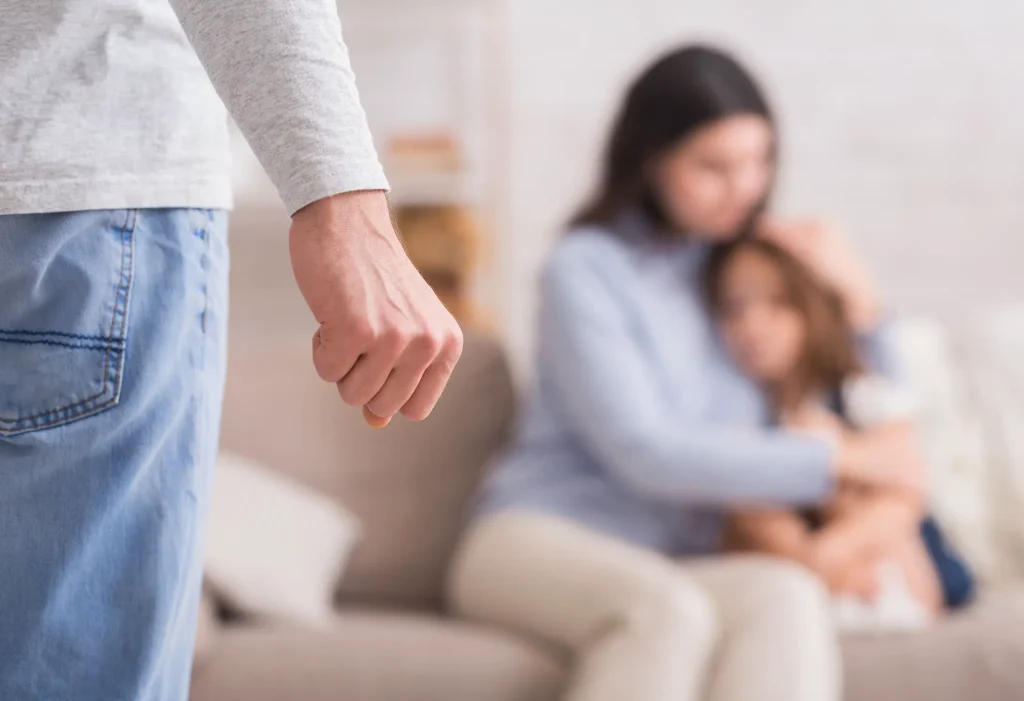 Unfortunately, there has been an increase in domestic violence cases during the pandemic.
We don't stand for domestic abuse, and we want you to know that if you are in an unsafe situation and you need help, you can reach out to us here at Cannon & Associates.
We will file an injunction against your violent spouse; this will prevent them from seeing you or your kids and will give you a place of safety to file your divorce.
Please don't hesitate; if you do not know how or what to do, call us today, and we can step in immediately to protect you and your children
On the reverse side of the coin, there has also been an increase in domestic violence allegations. In rare cases, this may be a tactic to influence the court's decisions against a spouse.
We have experience in fighting and dealing with these claims. Our Oklahoma City divorce lawyers will be able to help you fight this allegation and discredit your spouse in the eyes of the court in the process.
Spousal Support
In Oklahoma City, it is often crucial for people who are coming out of legal separation to seek spousal support. This is in place to help people who have given up their jobs to look after the kids.
The best way to seek spousal support is through a compelling argument. Speak to your Oklahoma divorce lawyers, and they will be able to help you present your case.
Contested Divorce
As divorce attorneys in Oklahoma, we see a lot of spiteful and hateful divorces. In fact, it is extremely rare that we see a divorce with two amicable parties that agree on their divorce terms.
After spending a long time married, it can mean your lives are extremely tangled. This can make it a hard task to divide property and agree on custody and spousal support arrangements.
Contested divorces that take a long time to resolve can end up costing you a lot of money. The judge and the court will not settle your divorce until your terms are agreed upon.
This means eventually, you and your ex are going to have to settle on your divorce terms, or you are going to end up racking up huge legal bills.
A skilled Oklahoma City divorce lawyer will ensure that you have a safe and calm space in which to negotiate with your spouse. They will help you put forward arguments that are reasonable and fair. They will be harder to argue with and should be easier to agree upon.
Child Custody Arrangements
One of the most heated and explosive issues that arise during divorce proceedings is who gets custody of the children. Even though both parties ultimately want what is best for their kids, these arguments can often become skewed, especially when tempers are raised.
The best divorce lawyers in Oklahoma City prioritize the needs of the child and will work with both parties to arrive at the best possible solution.
Primary Custody Considerations
During a hearing or trial for child custody, there will be many considerations that the judge takes into account when they make their decisions, such as:
Whether there is a danger to the child from either parent.
Each spouse's stability.
Previous parent involvement in the child's life.
Family proximity.
Potential Danger to Child from Either Parent
The first and most important thing that a judge in an Oklahoma City courtroom may consider when it comes to awarding custody is whether or not either parent poses a threat to the child.
Potential threats may be things like a history of drug abuse or violence.
The Parents Stability
The next thing the judge will look at is the stability of each parent. This will take into account whether or not each parent can maintain a job and lifestyle that allows them to see to all of their child's needs.
Parent Involvement
The judge will also take into account how involved each parent has been in the child's life up until now. This means taking the child to doctor's appointments and turning up to sporting events and parents' evenings.
Even though this does not guarantee custody, if the judge sees that you are involved in your kid's life in this way, they will encourage you to continue to do so, even if you do not win primary custody.
Family Proximity and Closeness
If a child has grown up inside a close-knit family circle, the judge will always try to ensure they still have access to that circle.
This can sometimes get complicated when one party is moving to a different state or country, and in these circumstances, you will need to work out with the judge and your attorney what is best for your child.
Joint Custody
Joint custody is granted in most cases where there is no argument against one parent. This can be split in different ways but ultimately, the parent who is looking after the child be considered the primary conservator and the other parent will have visitation rights.
In joint custody cases, both parents will share rights and duties, but in some cases, things like child support and primary residence rights will be given to one parent.
Joint custody means that both parents share rights and duties. However, some parental rights can still be exclusively given to one parent, such as the right to receive child support and decide on primary residence.
Sole Custody
In cases where there is an argument for it, one parent may be granted sole custody. This means they will have the right to make any and all decisions that are important in relation to the child.
Reasons for sole custody being granted include things like domestic violence and drug abuse claims against the other spouse.
If you believe you have an argument for seeking sole custody, you will need as much evidence as possible and a strong claim. The best way to ensure this is to use a skilled child custody lawyer.
Possessory Conservatorship
Sometimes, a non-parent like an uncle or aunt can be awarded sole conservatorship, this means the parents may be made possessory conservators.
In these situations, the parents will have certain rights to access their child but not the right to make medical or educational, or other important decisions on behalf of the child.
Call the Divorce Attorney OKC Couples Rely On For Fair and Favorable Resolutions.
Our highly experienced Oklahoma City divorce lawyers are here to help you navigate your situation, regardless of its complexity. With our team by your side, you know that someone with knowledge and understanding of the law is on your side, and fighting for your best interests.
If you are located in Oklahoma City, Edmond, Norman, Yukon, Mustang, The Village, Moore, or Midwest City, contact us today by calling 405-591-3935 for a free consultation.
Your fierce advocates® in
criminal defense and family law
Our Client Reviews
More 5-star Reviews Than 99% Of Lawyers In Oklahoma
"John has shown nothing but compassion and professional guidance in my case. He truly cares about his clients and is exceptionally understanding when it comes to any case he is representing. He communicates genuinely as well as in a timely matter. If I were able to give his firm any more than 5 stars, I most definitely would. He is incredible."
"John Cannon is an awesome attorney. He is very professional and honest. He really cares about his clients. John always gets back to you quickly to answer any questions you have regarding your case. I highly recommend CANNON & ASSOCIATES for any legal needs you may have."
"John Cannon has helped me through the hardest time in my life. He helped me through my divorce and custody case. He truly cares about his clients and it made me so happy he always put my daughter first and wanted what was in her best interest as a child. He is very sharp and resourceful and he has been very attentive and responsive to my needs, John is very polite and professional and he always has a great attitude. John always took the time to go over everything and explain everything in depth. I've enjoyed working with John and his team and would recommend him to other clients."
"I have known John for about 6 years now in his capacity as a Judge Advocate and a civilian attorney. John has a rare blend of both sharp analytical and interpersonal skills. I have seen John achieve positive outcomes for clients in complex scenarios and If you need an attorney who can do the same for you - this is your guy."
"John did a very good job. Although the outcome was not 100% what we expected(strange judgement) it was overall positive. I would, have and will continue to recommended him. Although I certainly hope to not need his services again in the capacity I hired him for I would not hesitate to call if I do. Thanks John"
"I signed up with John June 25th, July 5th I received an email that my case is in line to be DISMISSED, within a 2 week time period John made what was one of the most stressful times in my life better! Every case is different but he handled my case with care and he was extremely open in his communication throughout the whole process. I hope to never have to have a criminal attorney again but if I do I will definitely go back to John. I highly recommend him to anyone else who is needing an attorney!"
"John is a highly respected attorney. Professional and compassionate. He has a wealth of knowledge, being a military officer and having served as an Assistant District Attorney, a Public Defender, and an Assistant Attorney General. He helped a friend's son who was headed down the wrong path, but through John's legal defense the young man is now a successful business owner."
"John is a very professional attorney, who is not only concerned about the welfare of his client but very attentive and considerate of the family, or other bodies that are in the face of the adversity. While working on my family members case, John took time out to take a class that would educate him on how to approach the many different types of cases tried in the court room. John proved his sincerity to the calling of his job, being an attorney. I would definitely recommend him to anyone."
"Mr. Cannon went above and beyond for my wife. She was facing some pretty hard fines and prison time with the US Marshalls. Mr. Cannon fought a hard fight and got her a GREAT offer. Words cannot express how much I appreciate him and what he did for my wife. I would give 10 stars and I will be promoting him. He's that awesome. He keeps you informed, he will text or call you back, and he goes above what he is asked to do and I can reassure you"HE WILL FIGHT FOR YOU OR YOUR FAMILY MEMBER". I will continue retaining him for other things my wife is battling. High five and a great big hug to Mr. Cannon. Thank you!!! John took the reigns and provided us instant peace of mind. He was timely, respectful, transparent, very professional, honest and courteous. The service he provided was above and beyond our expectations. Can't believe professionals like him are around. Highly highly without reservations recommend him and his team."
"John Cannon is an excellent attorney. He takes sincere interest in your needs. He maintains communication and provides all the information you might want to fully understand the legal process. He also suggests alternative resolutions to your legal needs so that you can make informed choices. I definitely recommend John."
"My experience with CANNON & ASSOCIATES was absolutely amazing. I hired John Cannon two days before my rebuttal statement was due back to the Staff Judge Advocate. Within that time frame he was able to talk to my Battery and Battalion Commanders, review my evidence, and help me write a rebuttal statement that help prove my case to them, the Brigade Commander and the Post Commanding General. Cannon worked thru the night to help me get the best results for me and my family. Due to his hard work and attention to detail I am still able to continue to serve my country and progress in my military career with no adverse actions on my record. I can not thank him enough on a job well done. Cannon showed me that he was invested in my case and I highly recommend you hire him when you need someone to represent you in a legal matter."
"John Cannon assisted me through a very difficult time in my military career. He worked tirelessly with me on my case and kept me informed during the entire process. I can't say enough good things about Mr. Cannon. He's incredibly knowledgeable with regards to military justice. The outcome of my case was successful and I attribute that to Mr. Cannon's professionalism and expertise in dealing with military law. I would highly recommend Mr. Cannon to anyone with military justice or criminal defense needs."
"Hands down the best lawyer. Mr.Cannon accepted my case and got on it the same day. I would give him 10 stars if I could. I really appreciate the dedication on how he handles things with a short time frame."
"Mr. Cannon has represented me on 2 criminal cases and one civil case over the past 4 years. He has always served me honestly, speedily and with good moral direction. John has integrity and humility. He has never belittled me or treated me in an unfair manor. I appreciate all that he has done for me and I most certainly recommend him to family, strangers and friends. I will definitely use Mr. Cannon in the future for any and all of my family's legal matters."
"Mr. Cannon went above and beyond for my wife. She was facing some pretty hard fines and prison time with the US Marshalls. Mr. Cannon fought a hard fight and got her a GREAT offer. Words cannot express how much I appreciate him and what he did for my wife. I would give 10 stars and I will be promoting him. He's that awesome. He keeps you informed, he will text or call you back, and he goes above what he is asked to do and I can reassure you"HE WILL FIGHT FOR YOU OR YOUR FAMILY MEMBER". I will continue retaining him for other things my wife is battling. High five and a great big hug to Mr. Cannon. Thank you!!!"
"I had a great experience with John. He is very personable and helped me a lot. I'm really grateful I found him. He made me feel confident that he was the right lawyer for my case and that he wasn't trying to sell me but genuinely just wanted to help me. I would highly recommend John to anyone!"
"Working with Mr. Cannon has been a real life-saving experience for me and my family. He provides the knowledge of the possibilities as soon as he can get them, then works tirelessly to ensure that any concerns or questions are addressed immediately. He has been a great asset to us not only in the face of legal troubles, but in providing a sense of security that is truly reassuring in the face of the uncertain.Mr. Cannon has been a great resource and has been very patient with me. From the start he provided a list of things to do that would help me help him with my case and since the beginning has continued to give advice or suggestions on any matter that has bothered me with my situation, large or small. He is gentle, yet realistic, and this combination really does become a rock in tumultuous times such as these.I would highly recommend Mr. Cannon to anyone who needs a vigilant and committed attorney, especially one that stands by your side until your issue is resolved. He goes above and beyond not only to work, but to care for his clients!"
"John Cannon assisted me through a very difficult time in my military career. He worked tirelessly with me on my case and kept me informed during the entire process. I can't say enough good things about Mr. Cannon. He's incredibly knowledgeable with regards to military justice. The outcome of my case was successful and I attribute that to Mr. Cannon's professionalism and expertise in dealing with military law. I highly recommend Mr. Cannon to anyone with military justice or criminal defense needs."