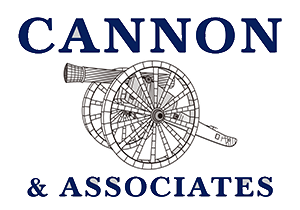 Call Today for Free Case Evaluation
2133 N. Kelly Avenue, Suite 100
Edmond, OK 73003
Fierce Advocates for Freedom and Families
John CannonReviewsout of 1 review
John CannonClients' ChoiceAward 2018
Fierce Advocates for Families and Freedom
SUPER LAWYER BADGE
AVVO 10.0 BADGE
TOP 40 UNDER 40 BADGE
LAWYERS HELPING HEROES BADGE
+75 5-STAR GOOGLE REVIEWS
"John has shown nothing but compassion and professional guidance in my case. He truly cares about his clients and is exceptionally understanding when it comes to any case he is representing. He communicates genuinely as well as in a timely manner. If I were able to give his firm any more than 5 stars, I most definitely would. He is incredible" – Holly
"You can count on Cannon & Associates to take care of your legal needs. Mr. Elliott's knowledge, skill, and tenaciousness will ensure you get the best possible outcome. He has been my go-to attorney for several years and has never let me down" – Michael
"Very Professional and truly cares for his clients. Delivers peace of mind while quickly working on your behalf. Would strongly recommend to anyone going through a difficult situation!! Thank you, Cannon & Associates, for all you've done and continue doing for me and my family" – Cody
"John and Doug are attorneys that truly just love to win and represent their clients vigorously, Their Fierce Advocacy is an asset to their clients. As a fellow attorney, I have had the pleasure of witnessing their efforts personally." –Attorney in Oklahoma City
Schedule Free Case Evaluation Today
Cannon & Associates is dedicated to Fierce Advocacy
We strive to provide the best legal services to every single client. We use our experience, knowledge, reputation, and Fierce Advocacy to every client and family we have the pleasure of representing. 
You deserve a Firm that will fight for you. Our team of former prosecutors, Judge Advocates, and defense lawyers fight every case as if it is only case. Our team listen to our clients, communicates on a regular basis, and keeps you informed regarding all developments in your case.
NOT GUILTY – MURDER FIRST DEGREE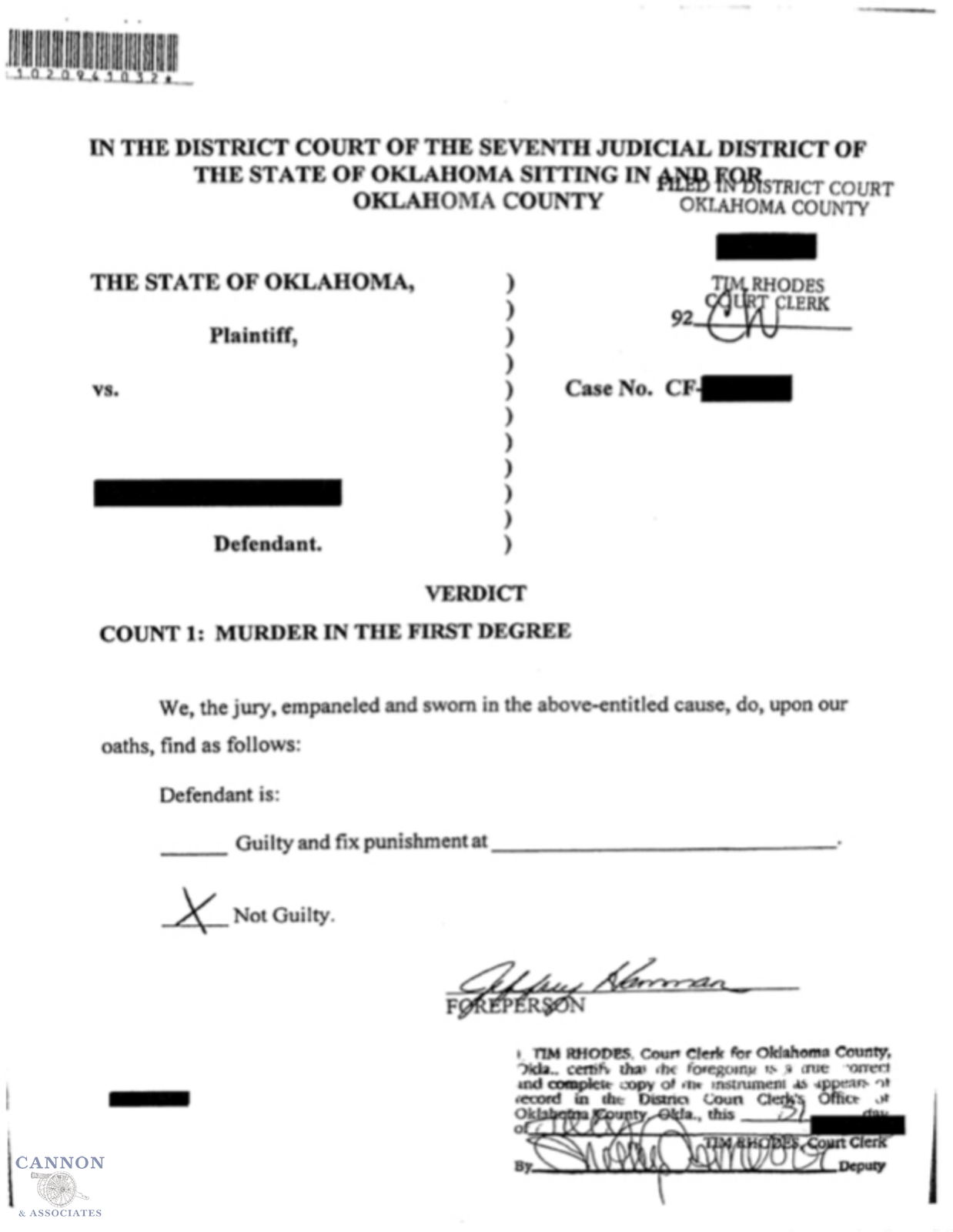 NOT GUILTY – ROBBERY WITH A DANGEROUS WEAPON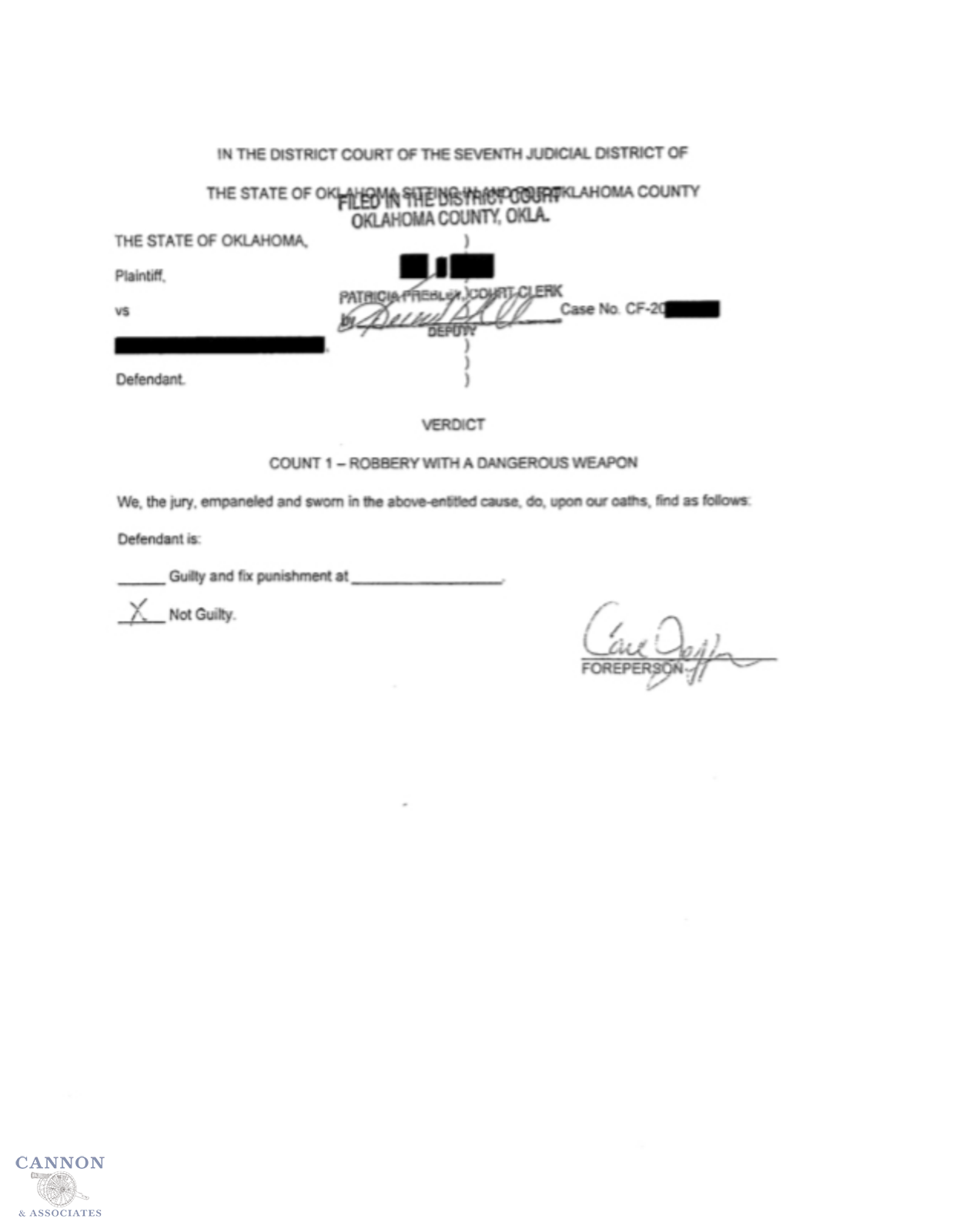 WHAT CANNON & ASSOCIATES CAN DO FOR YOU
Cannon & Associates offices in Emond, Oklahoma; however, we represent clients across the state. We defense those accused of all types of crimes in city, state, and federal court. Additionally, we represent families going through divorce, child custody, or paternity cases. 
We work tirelessly to obtain the best result possible in every client's case. Our goal in every Criminal Case is to accomplish the following:
Obtain a dismissal or reduction of charges;
Save our client's from jail and a conviction;
Make probation as easy as possible, if a dismissal is not obtained.
Our goal in every Family Law Case is to accomplish the following:
Get you custody of your children;
Obtain the terms of Divorce you want;
Avoid unjust alimony or property awards.
Criminal Defense and Family Law cases are procedurally and factually difficult. However, with Fierce Advocates on your side; you can win the day!
---
Fierce Advocates for Freedom and Families
---
John CannonReviewsout of 1 review
John CannonClients' ChoiceAward 2018
John CannonReviewsout of 25 reviews
John CannonClients' ChoiceAward 2018